Monday's Reading: "And as he was setting out on his journey, a man ran up and knelt before him and asked him, "Good Teacher, what must I do to inherit eternal life?" And Jesus said to him, "Why do you call me good? No one is good except God alone. You know the commandments: 'Do not murder, Do not commit adultery, Do not steal, Do not bear false witness, Do not defraud, Honor your father and mother.'" And he said to him, "Teacher, all these I have kept from my youth."  And Jesus, looking at him, loved him, and said to him, "You lack one thing: go, sell all that you have and give to the poor, and you will have treasure in heaven; and come, follow me."  Disheartened by the saying, he went away sorrowful, for he had great possessions." Mark 10:17-22 
As Jesus traveled throughout Galilee and Judea doing ministry, this young man approached him with a desperate question.  He was a man of status, position, and considerable wealth.  We see in the text that this Jewish man had kept the commandments outwardly from the time he was young.  Yet, he was still looking and longing for the missing piece that would qualify him for eternal life.  He wanted a religious recipe he could follow.  But Jesus loved him (v 21) and out of His love He answered him by cutting right through his outward conformity to the law and exposing the inward position of his heart.  The young man was so caught up in the hustle, in earning his right to be considered good, he was so attached to his material possessions, and so dependent on his wealth, that he left his conversation with Jesus feeling disheartened and sorrowful. Do you struggle to give up the hustle in your own life and give yourself over to God's grace?  Are you willing to surrender everything, even what you hold most precious in this life, for the hope of the life He gives you in return?
Prayer: Lord, as I read your Word I see parts of myself in the rich young ruler. I know that there are places in my own heart that I hold back from You. Expose in me the things that I cling to and the areas that I struggle to surrender to You.  Help me to submit to You wholeheartedly, even when it means letting go of my material possessions or wealth, my social status or position, or my own ideas about what it means to be good enough to earn Your forgiveness and Your eternal life.  Enable me to cast myself fully upon Your grace and to follow after You wholeheartedly.  Help me respond differently than the rich young ruler.  Instead of turning away from You in sorrow, help me run toward You in surrender. 
---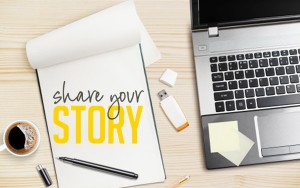 Throughout this series we would love to hear about your stories of answered prayers or how new prayer habits are effecting the rest of your life. Click here to share your story with us!